This post is part of the William Castle Blogathon, hosted by
The Last Drive-In
and

Goregirl's Dungeon

, running from July 29th through August 2nd, 2013! Enjoy!
With all the horror and suspense in William Castle's filmography, we of
Team Bartilucci
thought it'd be neat to feature two of the gimmick-meister's comedy turns for the Blogathon—especially, as Vinnie so sagely pointed, out:
"Mr. Sardonicus is
probably already taken."
When my talented friend and fellow film blogger Jo Gabriel of
The Last Drive-In
invited me to take part in the
William Castle Blogathon
with her fab co-host Patti of
Goregirl's Dungeon
, I admit I was a little nervous at the prospect, because horror movies usually send me to The Coward's Corner, scaredy-cat that I am. But when my Pal Joey recommended Castle's 1967 comedy-thriller
The Spirit is Willing (TSIW),
I knew I was in for a frightfully funny good time! Besides, Castle's own come-on come was irrisistable, too:
"Kiss-Hungry Girl Ghosts Looking for a Live Lover in a Haunted House of Mayhem!"
Brava
on a great choice, Jo—beaucoup thanks!
But first, a bit of background: William Castle was born in 1914 as William Schloss in New York City (I'm always glad to see my fellow native New Yorkers making good!). Sadly, Castle's parents each died fairly young, leaving the boy an orphan. Even then, young Castle knew how to get noticed: a dexterous lad, little Billy wowed the other kids by taking his legs and putting them behind his neck, earning the nickname "Spider Boy." The kid became an applause junkie! His chutzpah took him far; for instance, he kept renowned German actress Ellen Schwanneke from being forced or tricked into a German film festival that would have trapped her among the Nazis forever, thus combining patriotism and ballyhoo—and a tall tale or two! Yes, that was all young Bill Castle's idea to get publicity for the show, even going so far as to paint swastikas on the theater, then denouncing the Nazi swine trying to muzzle free speech!
Castle's clever ploy grabbed the attention of the notorious and powerful Harry Cohn, head honcho of Columbia Pictures. He was impressed by Castle's youth and eagerness, so he hired Castle as a dialogue coach—before he even knew what a dialogue coach was supposed to do! Now
there's
an eager beaver, considering that in the 2007 documentary
Spine Tingler! The William Castle Story,
fellow director Budd Boetticher described Cohn as "probably except for Hitler and Mussolini, the most frightening, despicable man you ever saw in your life." But surprisingly, Cohn took a shine to young Castle's enthusiasm and determination—go Bill!
Castle directed his first film at Columbia Pictures with the 1943
Boston Blackie
adventure
The Chance of a Lifetime.
Talk about a good omen! Then Castle bought the film rights to the mystery novel
If I Die Before I Wake.
Castle took it to his old pal Orson Welles to direct—and Welles took the book to Cohn without him! Sure, Bill was irked, but ultimately decided working with Welles as his Assistant Director was still a darn good place to start. Besides, Castle found himself learning plenty from working with Welles, including a taste for expensive cigars, and making sure that when Castle himself became top dog, he'd make sure his name was on the picture—and so it was! Even more important, the Castle Family was lucky to find themselves in a longtime loving marriage and a great family life, which is more than many other filmmakers can say!
And so, Team Bartilucci's double-feature begins!
The Spirit is Willing (1967)
- Behind the ghastly green door
Bizarre love triangle!
Accompanied by Vic Mizzy's sprightly, playful score, the prologue of
TSIW
opens in 1898 with Captain Ebenezer Twitchell (Robert Donner), who's just recently rescued an important cargo and survived a mutiny to boot. (Call me cynical, but I wonder if Ebenezer somehow did something to make the crew mad!) His client (Nestor Paiva) wants to give Ebenezer all kinds of riches and land—including the boss' unmarried daughter, Felicity (Cass Daley). Unfortunately for Ebenezer, poor plain whinnying Felicity is what
Webb Wilder
would describe as
"un-voluptuous."
Still, she's rich, available, and looking forward to her
wedding night
—until
she discovers that Ebenezer finds lovely housemaid Jenny Pruitt (Jill Townsend in the first of her three roles) to be much more his type, and the feeling is mutual with Jenny. Too bad romance and adultery don't mix harmoniously, especially when Felicity makes her point with sharp cleavers!
But love never really dies, especially in a William Castle movie with a wicked sense of humor like this one. The credits sequence show decades of the ghosts of Felicity, Captain Twitchell, and Jenny wreaking deadly havoc on unsuspecting renters over the centuries. Too bad these folks apparently couldn't afford less lethal accommodations; if only Hotel.com had been around back in 1967! Still, that cheeky
Addams Family
-style opening credits sequence is drolly entertaining. If only the Internet had been around back in 1967, our heroes could have scrammed
pronto
and saved themselves a lot of funeral expenses!
Sure, we wanted fresh air, but enough already!
Now it's a whole new decade (1967, the year
TSIW
was released). The Powells, a new family of would-be victims from New York City (my hometown!), arrives to rent this charming New England seaside cottage on their summer vacation. Let the supernatural screams of horror and hilarity begin, in a nutzoid take-off of
The Haunting
and other classic supernatural thrillers! Despite Mama Kate (Vera Miles) assuring Papa Ben (Sid Caesar) that his boss simply recommended the vacation because of Ben's bad back. I bet it's like in
Rear Window:
Ben sounds like the kind of guy who's just too valuable to his magazine to fool around with! Nevertheless, worrywart Ben is convinced that instead of enjoying a vacation, he's actually about to be fired from his long-time writing gig in The Big Apple, fretting, "They haven't changed my typewriter ribbon in months…Twelve years on a job, you think you're doing great, and all of a sudden (Ben snaps his fingers), you get a vacation!" (To be fair, most of us native New Yorkers have often felt paranoid that way, too!) Well, maybe the sea air and the quaint villagers will relax him, with their part-beatnik/part Irish sports clothes—"when in Rome," and all that jazz!
Gloria Tritt sure knows how to
roll out the red carpet for guests—
blood-red?!
The frightful fun starts as soon as they step inside, with local denizen and cleaning woman Gloria Tritt (Mary Wickes)—who almost accidentally clobbers the Powells!
Gloria
:
"I wasn't expecting you till later."
Steve:
"Who are you?"
Gloria:
"I'm the cleaning woman."
Kate:
"Have you ever tried using a broom?"
Ben, Kate, and their teenage son Steve (Gordon) opt for the New England rental. Oh, that poor unsuspecting family! Steve's already bummed-out and a tad surly because this New England trip is a drag for him without his city pals:
Steve: "I didn't ask to be born."
Ben: "You've asked for everything else!"
Still, Ben and Kate look forward to some romantic "couple time" together on this trip. I must say that even with the encroaching ghosts, possible employment worries, and Ben's back problems, Caesar and Miles really do make an unexpectedly sweet and sexy screen couple in their love scenes! Even with the traditional NYC-style yelling and kvetching, you can see this family really does care about each other.
But these ghosts aren't just any old poltergeists: they're ectoplasmic squatters. What nerve! Ebenezer, Jenny, and Felicity are vindictive little imps, and they're taking their anger out on young Steve—the poor kid's being framed! Well, at least now Steve has a good excuse to be an "angry young man! " Even when Steve gets to spend a night on a yacht with the family's rich, pompous Uncle George (John McGiver), a toilet bowl tycoon, those ornery ghosts turn out to be good swimmers, too! Ghosts continue to literally haunt Steve everywhere, from land to sea. The kid can't even ditch the ghostly trio in the sea when he gets a part-time job underwater salvaging Uncle George's luckless yachts to earn money (Steve's saving up for a car)!
Luckily, Steve finds allies with the locals at the neighborhood bar,
Mother's
, including the lovely Weems sisters, teenage Priscilla and sexy librarian Carol. They both happen to be Jenny Pruitt's descendants, also played by Townsend. I know director/producer William Castle was tight with a buck, but I hope he gave the busy Townsend a decent wage for her triple-threat performance! Anyway, our heroes brush up on their ghost lore, including picking up cosmetics and other girly things to lure the spirits of Jenny, Felicity, and Ebenezer, to lay them to rest at last—though not before the befuddled adults get all bent out of shape looking for
*ahem*
gender issues where there are none. Kate in particular is mistakenly convinced that Ben's research on the ghosts with Carol means he's attracted to her (granted, Carol
is
a looker). Kate, you misguided hot mama you, you're thinking of
"Marian The Librarian"
from
The Music Man!
But I digress…)
By a waterfall, I'm drowning yoo-ooo...
It's The Shining with less blood and more laughs!

The young folks know their ghost lore, at least enough for

TSIW's

purposes. Priscilla gives Steve helpful hints:

Priscilla:

"Be at the cemetery at—"

Steve:

"I know, be at the cemetery at midnight."

Priscilla:

"That's only in books. See you at eight, after the ghosts have dinner."

Even babysitting comes in handy when Steve and Priscilla bring little Miles Thorpe (little Ricky Cordell from

The Singing Nun

),

to lend a hand (not literally!), since he too is a descendant of the ghostly love triangle. What the heck, Priscilla had to babysit the kid anyway; she's such a multitasker, bless her! All manner of mirthful menace breaks out in the frenetic finale as our heroes set things right on Steve's birthday, in a plot involving pirate-garbed men (apparently Felicity liked the bad boys), gals who look like Jenny did back in the day, and…well, let's just say Steve might not need a Bar Mitzvah to prove this boy has definitely become a man!
About time Ben and Kate got "couple" time, by George!
Our heroes tiptoe thru the gravestones in the moonlight!
The sprightly, cheeky music by Vic Mizzy
(The Addams Family; Green Acres; The Busy Body),
sets the tone delightfully, and Ben Starr's whimsically macabre screenplay was based on the novel
The Visitors
by Nathaniel Benchley—yes
, that
Nathaniel Benchley, kin to Robert and Peter!
The amazing cast of ghoulish goofballs include a swell gaggle of gals, goons, and ghouls! Check out this lineup:
*Sid Caesar,
legendary star of Broadway, films, and TV, including the classic
Your Show of Shows,
and
movies including Mel Brooks'
Silent Movie; The Busy Body;
and
It's A Mad, Mad, Mad, Mad World.
*Vera Miles,
whose beauty and talent caught Alfred Hitchcock's eye, resulting in her unforgettable roles in
Psycho
and
The Wrong Man
,
as well as Henry Hathaway's 1956 suspense thriller
23 Paces to Baker Street.
*Barry Gordon:
As a child actor, Gordon had his film debut in the movie version of Herb Gardner's Broadway hit
A Thousand Clowns
,
which won a Best Supporting Actor Oscar for Martin Balsam—
and
who just happened to play Arbogast, the detective in Hitchcock's
Psycho
.
Talk about a small world! Gordon has been in films and on TV from everything from sitcoms, dramas, and animated films and TV shows (our daughter loves
Teenage Mutant Ninja Turtles
and
SWAT Kats),
and nowadays he's also a rabbi!
*John McGiver:
Midnight Cowboy; Breakfast at Tiffany's;
Fitzwilly;
*Robert Donner:
Cool Hand Luke; Vanishing Point; High Plains Drifter;
TV's Mork and Mindy, as Exidor.
*Mary Wickes:
The Man Who Came to Dinner; The Music Man;
the
Sister Act
movies.
*
Jesse White
: Harvey; The Reluctant Astronaut; Matinee;
the beloved Maytag
Repairman!
*Nestor Paiva:
The Creature from the Black Lagoon; Mr. Blandings Builds His Dream House; The Southerner. (TSIW
was Paiva's last film before his death.)
*John Astin
:
That Touch of Mink;
TV's
The Addams Family
and
I'm Dickens, He's Fenster.
*Jill Townsend:
British actress, beauty, and journalist known in both the U.S. and the U.K., the latter including the popular TV series
Poldark
and the film
Alfie Darling,
the sequel to
Alfie.
Townsend
met
renowned actor Nicol Williamson during the filming of Herbert Ross' film version of
The Seven
-
Percent Solution
(1976),
in which Williamson played Sherlock Holmes.
Townsend and Williamson had a long, tempestuous marriage, and eventually she divorced Williamson for good. Townsend became a financial columnist for
The Daily Mail
and
Windsor Cable Television.
She later returned
to the U.S. and became a spiritual counselor
.
The talented and versatile Townsend also shows off her versatility
in TSIW
in three different roles; talk about the Triple Crown!
*Cass Daley:
Daley started as a chanteuse, but

Red Skelton

brought out Daley's funny side. According to the IMDb, Daley started as just a traditional torch singer, but one night, she was upstaged during one of her singing performances by a buffoonish emcee—Red Skelton! She decided full-tilt wacky comedy was a lot more fun and lucrative. She blended singing and slapstick, and a star was born as Daley stole the show in such films as

Duffy's Tavern; Red Garters;

Olsen and Johnson's Crazy House. *Jay C. Flippen as "Mother" (no, he's not in drag) who runs the titular bar and finds allies in Steve and the Weems sisters, Priscilla and Carol (also played by Townsend).

*Doodles Weaver (The Birds; Topper; Pocket Full of Miracles)
*Harvey Lembeck (Stalag 17; The Unsinkable Molly Brown; TV's

Sgt. Bilk

o)
Ben and Steve get unexpected Father and Son bonding time!
Director William Castle is having some thumb now in this cameo!
Memorable Lines from The Spirit is Willing:
"Kiss-Hungry Girl Ghosts Looking for a Live Lover in a Haunted House of Mayhem!
Ebenezer Twitchell (Donner) to his soon-to-be father-in-law, after almost accidentally klonging him in the head:
"Sorry, sir. I'm always a bit jumpy after a crew mutinies on me."
At Mother's Bar:


Fess Dorple
(Jesse White): "Mother, will you make her
(Mary Wickes as Gloria)
shut her yap?"
Mother
(Jay C. Flippen), to Fess, dryly: "I've had a request from you to 'shut your yap."
Gloria:
"The Constitution guarantees Freedom of Speech. Anybody thinks different is welcome to go outside."
Mother:
"Your move."
Fess:
"I know her type. You hit 'em once, and you've got a lawsuit on your hands..."
Mother: "I've heard from that party again concerning your big mouth."
ZOTZ! (1962)
Tom Poston likely is best known to modern audiences from his many appearances on Bob Newhart's various shows. He got his start as one of Steve Allen's stable of performers, with recurring roles in his "Man on the Street" sequences. He made a great name for himself as a character actor, with a great deadpan delivery. He didn't get to play the lead very often, but one of William Castle's early films for Columbia, "ZOTZ!", is a notable exception. It's also an exception in that it's one of Castle's few comedies. As mentioned in the intro, Castle dealt mostly in horror, albeit often with his tongue in his cheek.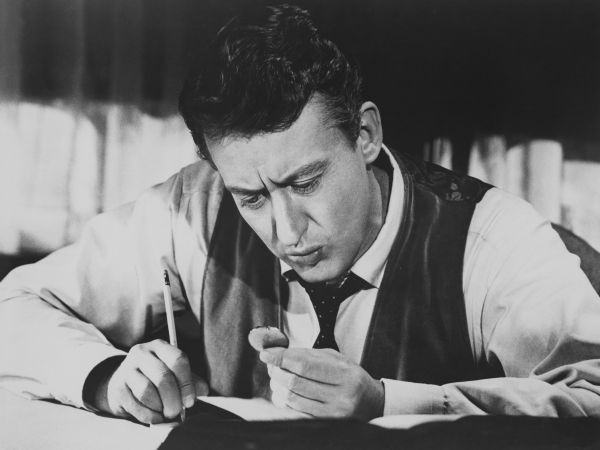 Poston plays Professor Jonathan Jones, a traditional "Bookish" type teacher, complete with wacky health diet of wheat germ and sauerkraut juice, tho a sight short of the Absent-Minded variety. His niece receives a letter from her boyfriend, not working as an archeologist in a non-existent but real-sounding country. He sends her as a gift an ancient coin, covered in words from an ancient language. A language which Professor Jones, an expert in ancient languages, can translate. It's a magic talisman in honor of an ancient god, one that gives the bearer great powers if they engage in the of both drawing and drinking blood (Which Jones accidentally does by prinking his finger and sticking it in how mouth.
The weirdness starts early after Jones unwittingly activates the coin - a freak thunderstorm shakes the house, and causes a passing bystandard to be struck by lightning, blowing all her clothes off. He assists her in her moment of full-body wardrobe malfunction, and gets back to his studies. People in his company begin experiencing odd pain when he gestures at them. He sets out to translate the rest of the coin's inscriptions - it's amazing how much detail they crammed in. If the bearer points at a person, the target experiences agonizing pain. If coin-older speak the name of the god, the eponymous "Zotz" anything they stare at slows to a crawl. If they point at something AND speaks the magic work, the target is destroyed instantly.
Eager to demonstrate this power, he plans to exhibit it at the home of the college's Dean (Cecil Kelleway). The Dean has been trying to decide who should succeed him, a decision rival professor Horatio Kellgore (Jim Backus) has made every attempt to guide by pointing out Jones' various odd behaviors. The Dean holds a cocktail party to introduce the new professor to the faculty - imagine Jones' surprise when "Professor Fenster" turns out to be the woman he assisted the night before! After a bit of less blush-worthy conversation, he remembers his plan to display hiw new ability. Jones releases a cage full of white mice at the Dean's cocktail party, expecting to disable them. Of course, his niece has taken the coin back, resulting in his great embarrassment and her suddenly gaining the ability to reduce people to a wincing fetal position.
Jones is requested to see a psychiatrist (James Milhollin, another character actor who got a lot of work playing psychiatrists and other stuck-up authority types), and eventually asked to take some time off. He realizes it's his duty to take this power to the military. He sets off to the Pentagon, where an apathetic colonel (Fred Clark) is sick of hearing from kooks who claim to have invented the next super weapon. He completely ignores the Professor's demonstration...but a somewhat Slavic-looking window-washer doesn't. Sent home all but laughed at, he is quickly contacted by an agent from "The Government" ... he coyly neglects to mention WHICH government. Yep, he's a Dirty Red, who whisks the Professor onto a plane headed for Russia. Jones attempts to escape, but when he's told his niece and Professor Fenster are in custody by one of their agents (a largely silent but still hilarious Mike Mazurki), he must resort to strategy. Telling them he doesn't have the coin with him, they turn back and head for the damsels in distress. A mad chase ensues where Jones ends up using the power on both the Commie rats and himself, before the ladies can eventually find assistance for them all.
The film features one of Castle's cameos, right over the opening credits. In one of only a handful of times they allowed people to mock the Columbia Logo, Castle sits in his director's chair at her feet and attempts to ensorcel her with the mystic title of the film.
It's a wacky bit of fun that, like
The Spirit is Willing
, offered work for a large number of character actors. In addition to one of Margaret Dumont's last films, it's also got a cameo by Louis Nye, another of Poston's fellow cast members from the
Steve Allen Show
. Somewhat dated due to the whole Red Scare subplot, it's still fun as a sort of time capsule of the era. In a couple of goofy visual gags, the pilot of the aircraft in which they whisk away the Professor resembles Khrushchev, and his driver resembles Stalin. Ever the self-promoter, Jones niece and her date go to the drive-in, which is showing
Homicidal
. Also, given his propensity for a gimmick with his pictures. first-run theatergoers received a replica ZOTZ! coin that glowed in the dark.
Castle always brought a bit of whimsy to his films, and in these two rare comedies, he had the opportunity to bring that comedy to the fore.